Our Donations
Scott Harvey's Great North Run
Yvonne's nephew Scott Harvey completed the run in 1:54:19 which he was very happy with!He ran in memory of his grandad and managed to hit his £400 target for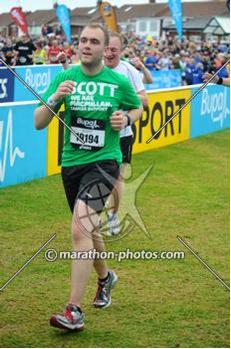 If anyone would still like to contribute, just click on the link as the website should be open for a few weeks yet. This is the only photo where Scott reckons he's not looking like he is about to keel over just to prove he was there!! Well done Scott and (Hanah) we're very proud of your achievement and Grandad would have been too.
Tetley's 3 Peaks Challenge
Bernard Duesbury and colleagues from Tetley's have completed the Yorkshire 3 Peaks Challenge in aid of Help The Heroes.
It was probably (could be a strapline here !!) the best time to go, considering the recent weather. It took 13 wonderful hours, 1 natural break and about 6 bars of Kendal mint cake.
The weather was mixed to say the least, they had a bit of sun first thing in the morning, then some rain, low cloud and a bit of hailstone.
The team set off at 6.30am and stopped about 10 minutes between the base of each peak - ready for the next one.
They are just £215 away from their £1,000 target so please click on the link if you want to donate. Many thanks
www.bmycharity.com/CentralFieldSalesTeam.
Drew Fussey is growing a moustache and doing 'MOVEMBER' to help change the face of men's

health, his MYMOV picture is at day 5. Drew says, "Let's face it, men are known to be more indifferent towards their health, especially when compared to the efforts of women, who proactively and publicly address their health issues in a way not traditionally seen with men. As a result, today the levels of awareness, understanding and funding for support of male health issues, like prostate cancer, lag significantly behind causes such as breast cancer.
The reasons for the poor state of men's health in the UK and around the world are numerous and complex and this is primarily due to a lack of awareness of the health issues men face. This can largely be attributed to the reluctance in men to openly discussing the subject due to longstanding traditions, coupled with an 'it'll be alright' attitude. Men are less likely to schedule doctors' appointments when they feel ill or for an annual check-up, thereby denying them the chance of early detection and effective treatment of common diseases"
Matthew Walker, Chief Executive from Leeds Federated Housing Association Ltd completed a sponsored walk to the summit of Kilimanjoro. "Just to let you know that I made it to the top of Kilimanjaro, which the attached photo proves, taken at 7.30am on 13 October (having started the final 'push' for the summit at midnight that day). Out of the group of 8 of us, only 3 made it to the top – altitude sickness got the better of the rest (I had my own encounter with it lower down the mountain but thankfully got over it). When the matched fund is taken into account, people sponsoring me gave just over £6,200k. The group as a whole raised just over £70k. A big amount which will make a big difference."
Dewsbury Rangers Football Club
Supporting Dewsbury Rangers Junior Football Club providing training tops for U14's team.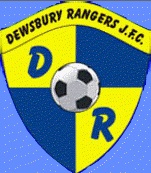 Dewsbury Rangers are part of the Huddersfield and District Junior Football League and have weekly training sessions and games. www.dewsburyrangersjfc.co.uk
A number of companies, like YCChange, have bought raffle tickets to raise money for their shirts. The winning raffle ticket (i.e. company) will have their logo's printed on all the training tops for the team.
Trust Team Sprints Past Fundraising Target
TWO charities in Halton have received a £2,500 boost after a marathon effort by a team of runners.
Halton Housing Trust entered a team of 10 into the English Half Marathon in Warrington and raised money for Halton Haven Hospice and Halton CAB. They had aimed to raise £2,000 but have surpassed that target.
Nick Atkin, the Trust's Chief Executive, said: "It is always inspiring to take part in events like the half marathon. You see many examples of great bravery from those taking part and the people the runners are there to support."
The Halton Housing Trust team included employees, a representative from Halton Haven Hospice and some supportive friends.
Nick led the team from the front with a time of 1hr 52mins. Other Trust employees included Chris Hatton who finished in 1hr 58mins and Chris Heath in 2hrs 11mins. Ciaran Clotworthy, events manager at the hospice, completed the 13 miles in 3hrs 48mins.
"All fundraising for Halton Haven Hospice is used to make our patients as happy and comfortable as possible during their stay with us," said Ciaran. "We pride ourselves on the specialist care we are able to offer and without the kind support of Halton Housing Trust these services would not be available."
Julie's been raising money for Kirkwood Hospice, Huddersfield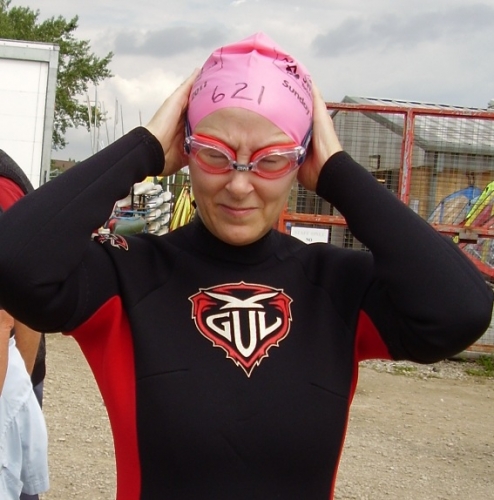 "I recently took part in the inaugural Yorkshire Swimming Festival organised by the Jane Tomlinson Appeal at Pugney's Park Lake in Wakefield.
Despite the fantastically positive, relaxed & fun atmosphere I don't remember being so scared about anything for years! Still, I pulled on my wetsuit (No laughing at the photo please) with hundreds of other swimmers and took to the freezing waters to swim 1500meters around the lake to raise money in aid of Kirkwood Hospice in Huddersfield.
Despite the weeds and the cramp, I managed to finish in 281st position (not bad out of so many swimmers!) with a fairly respectable time of 46mins & 46secs and managed to raise a total of £353.75 (inc Gift Aid) for this truly amazing organisation.
Thank you to everyone who sponsored me and who knows maybe I'll be back swimming next year!" Julie Reynolds
Brighton Ride in Aid of 'Keep It Up' Campaign
Paul Scott cycled approximately 260 miles from the Galpharm Stadium in Huddersfield to the Withdean Stadium in Brighton to raise money towards the 'Keep it Up' campaign.
"Despite being a bit battered and bruised bodies we arrived at the Withdean Stadium in Brighton spot on time last Saturday afternoon following another dramatic day on the 'Pink Link Pedal for Pounds 2' bike ride.
I set off from the Galpharm Stadium in Huddersfield with 170 other 'cyclists' with a schedule to arrive in Brighton at the Withdean Stadium in time for the Huddersfield Town game with Brighton – only 260ish miles to go !!!"
The Christie NHS Foundation Trust Charity Spring Ball
YCChange hosted a Charity Spring Ball on Saturday 24th April at Clough Manor, Saddleworth in aid of The Christie NHS Foundation Trust, one of Europe's leading cancer centres, treating over 40,000 patients a yearhttp://www.christie.nhs.uk/home.aspx. Around 100 people attended and over £1,000 was raised through a raffle. Vouchers from a wide range of fashion shops and restaurants were amongst some of the prizes plus a Huddersfield Town signed shirt, a £25 Chilli Lounge Voucher (www.chilli-lounge.co.uk), £75 Top Shop Voucher, Jewellery from CheekyCherubDesigns.co.uk and fantastic hair product gift box from GCHQ, Brockholes. The evening involved a delicious three course meal and entertainment by a local singer.
Halton Haven Hospice and HITS
"Just a quick note to let you know that our Halton Housing Trust team of 15 runners (including me!) successfully completed last Sunday's New Balance English Half Marathon in Warrington. Everybody finished, with times varying from 1 hour 41 minutes to just under 2 and a half hours.
Our team, who were running for our two nominated charities HITS and Halton Haven Hospice, have so far raised £1,538.
On behalf of us all can I also relay our sincere thanks and gratitude to all of you who have already supported us – we are always happy to reciprocate especially if you want to join us next year!!"
Nick Atkin
Chief Executive
Halton Housing Trust
Weston Park Hospital, Sheffield
Jim Wilson ran a half marathon on Sunday 13th September 2009 and is well on his way to raising his target of £250 for Weston Park Hospital Cancer Charity.
"I'm running another half marathon, this time in aid of Weston Park Hospital, Sheffield. Weston Park supplied fantastic support to my dear friend Gill who died last month. Gill was only 45 and left behind her husband, 15 year old son and a huge number of upset friends!"
A small group from Mosaic Virtual Office took part in the Kirkwood Hospice Midnight Memory Walk on Saturday 20th June 2009.
"Well we made it! 10.6 miles through the night - all pavement walking - it was hard work! Well done to all the team and thank you to all who sponsored us. Money is still coming in but we've gone over the £200 mark I think!"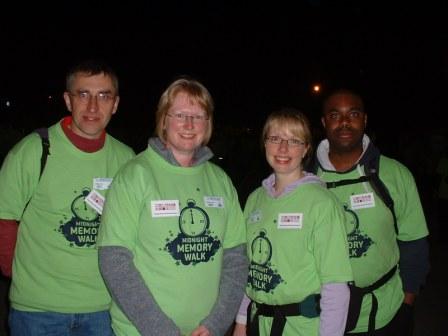 Nigel, Angela, Sarah and Alex
Keynsham & District Mencap
Claire White & The Beared Dragons

The challenge was set; race a boat, 250 metres on the Bristol dock to raise money for Keynsham and District Mencap. Just to make it a bit more of a challenge we decided to do it in beards!!
Keynsham and District Mencap Society (Charity Registration No 275561) is a community based, self funding charity affiliated to National Mencap. They support in the region of 150 adults and children with learning and or physical disabilities to access regular social, leisure, sporting and respite opportunities in and around the Keynsham and Bristol area.
An early start and a quick lesson on rowing were followed by a look around at other more musclely teams quickly before we took to the water. The red fog of competitiveness descended as the morning fog lifted and we set off getting very wet and losing our voices in the process. Our final race time of 01:30 sec meant that we came 14th out of 31 boats.
Well, what a day Sunday turned out to be! Raising more than £3,100 for Keynsham and District Mencap was incredible and will make a huge difference. Thank you for your support and sponsorship.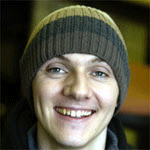 Adrian Sudbury, 26, received a bone marrow transplant during his 18-month battle with leukaemia and has been given just weeks to live. Despite his diagnosis, Adrianhas pledged to campaign for better awareness about the importance of bone marrow donation.
Through the Anthony Nolan Trust Adrian has been lobbying the Government for better education on bone marrow donation and has already met with the Prime Minister, Health Secretary Alan Johnson and Schools Secretary Ed Balls to discuss the issue.
Adrian is keen to dispel the many myths about what being a donor involves, "at the moment there is too much misconception surrounding these procedures. There is also an urgent need for blood, bone marrow and organ donors to come forward. All I am trying to achieve is a 40-minute talk to all second year sixth form students about why it is important to think about donating blood, bone marrow and organs. ItÙs only right that people should be able to make an informed choice either way. If people donate blood, or join a bone marrow register in their teens, then they will often continue to give blood and they will be on the register for a long time."
Over 6,500 people have signed Adrian Sudbury's campaign for the Government to improve education about bone marrow donation.
Yvonne organised a Charity Ball in July 2008 in support of the work of both Adrian and The Anthony Nolan Trust and raised £380. Sadly Adrian died on 20th August 2008, aged 27. Our sympathies go to his family.
Allan Humphries, Wakefield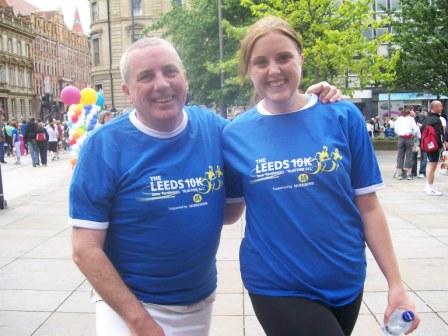 "Just to let you all know, both Kathryn and I completed the 10k Run For All.
We ran most of the way together, although I couldn't resist the sprint finish and finished slightly in front of her in 5,578th position in a time of 73 minutes 30 seconds. It would have been much faster of course if there hadn't been so many people in the way slowing me down! I was slightly outside the medals this time, but as there were 11,000 entrants, very nearly half of them were still behind me when I finished!
So thanks for your support! I'm not sure what the final total is, but it's not far away from the £300 target Kathryn set herself."
Theresa Stearn
"In 2007 I ran the Great North Run for the 5th time, raising money for MacMillan Cancer Relief. It was my slowest time yet (2:25:46) but by far the most enjoyable run. I raised about £600 for a great cause, and gave myself the perfect excuse to load up on carbs for weeks before and afterwards! I run because I love it and it has helped me through some difficult times, but it is an added incentive to be raising funds for a charity that has supported people who are dear to me. I am really grateful to people like Yvonne who dig deep without my having to nag them ... the thought of all that support keeps me going when I'm struggling with blisters and sunburn and a challenging hill at the 11 mile mark!"
Castleford Lock Lane Rugby Club
Allan Humphries
"The club's Junior and Youth Sections run teams for all age groups from Under 8 to Under 18. In an area with more than its share of social and economic problems, the club provides an opportunity for young people of both sexes to develop healthy lifestyles as well as life skills such as team working, leadership and respect for others that will enable them to become valuable members of the community in adulthood. The sponsorship you have given my son, Richard, has enabled him to progress towards his ambition of playing professional rugby league and he is now a member of the Sheffield Eagles reserve team. Richard also plans to give something back to the Lock Lane club by coaching one of the younger age groups next season."
George Clark
"Just to let you know that the Scout Centre roof to which you generously contributed to has now been replaced. On behalf of the 61st Scout Group I thank you for kind donation. We will be getting a donation plaque made to recognise all who contributed and displayed prominently in the Scout Centre."
BEFORE: AFTER: