News
I'm running a workshop on the 28th of November that will showcase my 6P Model for Business Excellence !
It's award winning, and proven benefits include increase in customer value, saving you time, reducing your costs, increased focus on what results your business wants to be giving you,
clarity of approach of how to win your next customer,

YCCHANGE picked up the prestigious prize for Excellence and Quality at the 2012 Committed to Construction in West Yorkshire Awards at the Royal Armouries this week.
The award, sponsored by Rixonway Kitchens was presented in recognition for the excellent work done alongside Derwentside Homes Chief Executive Geraldine Wilcox, managers and groups of staff in finalising an improvement plan containing clear actions, targets, timescales and identifying responsibility and accountability for its delivery.
People's Budget West Yorkshire Event
YCChange sponsored - People, Power and Money
Whose money is it anyway?


What a great event we had on the 18th November at the St George's Centre in Leeds. Yvonne chaired the event and was part of the sponsors who gave free time, effort and energy up to make this event happen!
Shazia Hussain, the Director of the Tower Hamlets Partnership, shared with us the process, pro's and con's of how Tower Hamlets helped local residents decide themselves how £4.8 million of council money could be spent effectively.
An informal "fishbowl conversation" with Chris Parsons the Chair of the Eastfield Neighbourhood Partnership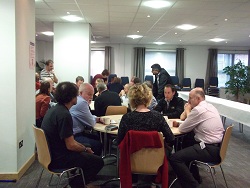 in Scarborough, Sue Seddon from Hambleton District Council and Diane Hurst from Rotherham Metropolitan Borough Council shared their views and successes of PB in their localities. Great to hear that Eastfield are in their 3rd year of PB and they've already run a Youth PB session.
The Open Space event was run with the key question: 'How best can communities be involved in deciding how public sector money is spent locally?' Loads of great input from everyone involved, highly interactive day.
Our next thoughts are: where do we take this next? Are other areas interested in sharing the knowledge and can we help do this? Get in touch if you are interested ..........
KMC Summit - 31st March 2011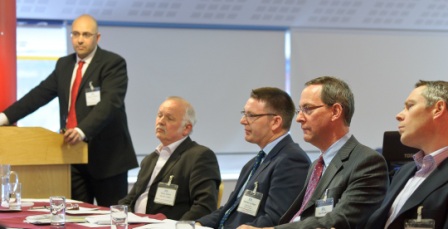 31st March 2011 – YCChange's theme of personal resilience was tested at the annual Kirklees Business Summit. The Summit was themed around procurement and the manufacturing industry and it was of interest to us as Adrian Lythgo, the Chief Executive of Kirklees was on the panel. In direct answer to my personal resilience question – "how are you making sure that you, your team and your partners maintain personal resilience during these challenging times for the industry", we had answers around allowing time at work to think and share information with colleagues to obtaining a personal trainer aligned with the 'healthy heart, healthy mind' approach !!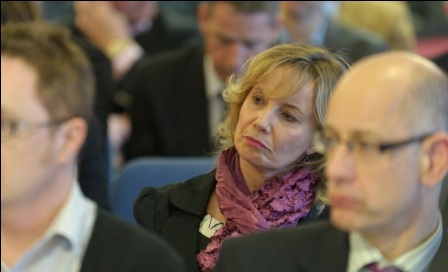 All that was very interesting, but it was refreshing to hear Gary Jones, MD of CKMA, talking about how he was trying to procure 'locally' and how he'd researched and sourced local suppliers to see if they could meet the organisations needs – so much more innovative than the tender portals in public sector and Adrian's approach. The event is timely as given the aims of central government to move 15% of public sector employees into a social enterprise, and the move for public sector to outsource much of their service delivery to private sector providers probably leaves small local suppliers very much out of the loop – and that's something that Adrian is in a position to turnaround – so watch this space ! I'm on the case to finding out what we can do about this – locally !!
Just wanted to share something with you whilst I'm on my travels !!
I was at a "local by social" event the other day and wanted to share some of the interesting stuff organisations are doing with social media.
At Blackburn and Darwin "local bloggers" attend full council and share what's happening in terms of council decision making – it's instant new information 'out there' for those interested parties, and for the council, not only is it increasing transparency of decision making; accessing those who it may not usually access; but also Councillors find they get "tweeted" (or contacted via 'usual means'!) individually, to talk about the specifics. This describes using social media to create "a movement – not a moment". Some of the decisions around using social media, in conjunction with traditional methods, has saved the Council £250k – now that's worth knowing!
Other discussions during the day included developing a "Digital Engagement Strategy" to provide clarity about how the Council will use electronic means of engaging, communicating and involving, including the balance between new and traditional methods. One of the big discussions was around creating a culture of 80/20 i.e. 80% of the time (because this is new) we'll get it right and 20% we might not – but let's not stifle innovation and experimentation !! Organisations are encouraging council officer bloggers to demystify the workings of the sector. People found that it also helped staff engagement in challenging and contributing to new ideas. Social media is being used to build trust – trust that the organisation is listening and that the customer is contributing.
The Police joined the day to showcase the outcomes of their "GMP24" on Twitter – for those that missed this, for 24 hours each officer tweeted their daily activity. At the start of the day there were 3,000 followers – this grew to 19,000 by the end of the day !! It was high impact PR at low cost. There are examples here of how "the local bobby" has become highly interactive with their communities through Twitter – they are sharing instantly some top tips on e.g. safety for young women; or local events happening in the area for students, or asking people if they know...... A PCSO tweeted the description of a burglar within seconds of attending a crime – this led to the capture and resolution of the case due to local tweeters providing information.
Hope that's provided you with a bit of interesting information on getting "local with social" and how it can work with practice.
The TSA are alive and well!
Just sharing this information with you, from one of my customers. We have found that the TSA are alive and well !! TSA colleagues are carrying out desk top reviews of the Tenant Involvement and Empowerment Standard for a number of you, using your Annual Report.
An insight to some of what they are looking for – in case this turns out to be you – are assurances of – and providing supporting evidence to:
Prioritisation of expenditure in delivering your local offers – based on tenant involvement in setting priorities
Tenant involvement in assessing your performance against standards, especially in the production of your annual report
Your insight strategy and how this will develop services in the future – as well as some detailed questions on your profiling
Assurance for the Board of compliancy against the regulatory framework
Hope that's useful - and welcome and comments.
Just wanted to share with you our fantastic news – we're winners !! (well almost!!).
We were asked to put together a submission to the East Midlands "Committed to Construction Awards 2011" by a key partner of one of our customers. We developed the strategic and operational approach to equality and diversity across the whole of the organisation and then ran a training programme for all staff, the Board and key partners to raise their awareness of their own personal contribution to this. Our customer was Charnwood Neighbourhood Housing (CNH) and their key partner was FHM, their capital improvement contractor, a member of the KeepMoat Group.
FHM were so impressed with what we've done – and what our profiling has been able to achieve e.g.
a tailored approach to working and communicating with customers knowing their varying ethnic, physical, emotional and social needs
prioritising home improvement works to support those most vulnerable
increased customer satisfaction with home improvements following the training programme and use of data
increase in access at first visit due to utilising the customer preferred contact means
specific contact to those most elderly during challenging times
increase in rent collection levels due to targeted support to those of most need
efficiency savings through e-correspondence
plus many many more things in the pipeline .................
Anyway – the upshot was, we were shortlisted for the "Excellence and Innovation" Award – got down to the last 3 – but were pipped to the post by Henry's big Boot (sorry – Henry Boot!! – something to do with health and safety!!) – never mind, the YCChange and CNH team did well !!!
Staff Investment at little cost - see how!
Want to invest in your staff, but want greater value for money? Then why not try our webinar approach ! In simple language this is training, on-line !
It's low cost yet retains the YCChange high quality – there's no travelling cost or time – and it's still interactive to enable creative discussion and debate. All you need is a computer and a headset with a microphone – so no big IT investment required at all !
Our first webinars include:
"magic meetings" – effective meeting management, making use of everyone's time and focusing on impact and outcomes
Build a culture of success – motivating your team, delegation, managing performance, building trust and credibility - all focused around success
Effective decision making and problem solving – diagnosing and solving problems, identifying and managing risks, making effective decisions
Whilst these may be our first as we think that they would help build the right skills required at this point in time we have many more that we can turn into the webinar approach should you wish. We are happy if you want to join us an a webinar that explains all about this approach if you want to know more.
EIA and budget cuts - another interesting debate
Here's another interesting Equality Impact Assessment debate – Unison are warning ¾ of Council's who did not carry out an EIA on their job cut plans that they should halt their cuts programmes! Unison say that they could face costly and time-consuming legal challenges.
Recognising that women, those with disabilities and ethnic minority staff are well represented in our public sector workforce, Unison's head believe that cuts may have a disproportionate impact.
One to watch out for ... from Stonewall
We hear via the lovely Amy Lamé on Twitter that lots of people are planning to give their religion as 'lesbian' in this month's Census, protesting at the absence of a question on sexual orientation.
"The Census is designed to 'help allocate public spending fairly' and gay people contribute more than £40 billion a year to the cost public services. Our deliberate exclusion by the civil servants responsible is gratuitously offensive.
Are your planned budget cuts illegal?
Have you equality impact assessed your planned budget cuts? Whilst this has been on the agenda for a long time now, the legal testings of the London Councils cuts to some of the voluntary sector bodies have been proved illegal – your business cases need to be watertight!
YCChange supports organisations develop a robust approach to Equality Impact Assessments. We provide full training for staff and partners so that it becomes a natural part of what your organisation does.
A Challenging Year Ahead?
I'm very, very conscious that almost every single person out there is being faced with challenges they've never had to face before, given the current uncertain climate. This might be having to review your finances just to reign in, or because you're going through a restructure or redundancy process at work, or because your business is suffering from the current climate. It might be that you are facing redundancy and you're not sure what to do next. You might have taken a confidence knock – but don't let this happen, it's the climate, NOT YOU!
What I do know is that success will come from facing these challenges head on with a positive mindset and a feeling of confidence that, whilst it may wobble, will not be taken away from you.
Ring me if you're feeling like this at the moment just to see if there's anything that I can help you with. Just a short phone call might help you turn your situation into one that last week, you didn't think existed.
Mark Bradley Speaks at YCChange Fringe Event at Housing 2010
Renowned speaker Mark Bradley gave a fresh view on customer insight and excellent customer experience at our Fringe Event at Housing 2010 in Harrogate in June.Click here
to hear what he had to say ...
The key to successfully surviving change?
YCChange, in partnership with Partners in Management, are offering FREE TASTER SESSIONS of their management development programmes to help organisations understand the benefits to them during these difficult times in the public sector.
The FREE SESSIONS will take place on 15th July at the Media Centre, Huddersfield, HD1 1RL. You have the choice of the morning (9.30-12.30) or the afternoon (1.30 – 4.30). The session will help public sector managers think about the issues that are ahead of them. To book your place click here.
Rightly or wrongly we are facing what is possibly the greatest squeeze on public sector funding ever seen. We face a decade at least of continuous challenge, having to deliver more with less whilst world-wide economies struggle to overcome the burden of debt they now carry. The threat of the collapse of the Euro and a second round of associated banking failures carries with it the prospect of further tightening of funding coupled to a probable increased demand for public sector services at the same time. So given this potential 'perfect storm' scenario – how will you survive?
What is obviously apparent is that the target driven managerial mindsets that have developed over the last decades will not be the ones that inspire and support successful innovation and change in the years to come. So how will these skills and attitude changes take place?
First of all – lets 'unfreeze' the situation and recognise openly and honestly some of the personnel issues we face:
Are you really challenging yourselves objectively about how you're going to prioritise what you deliver and how, where and who to at what cost? Or are you waiting for someone else to do it for you?
Do you really have the right skills, and just as importantly attitudes, in-house to deliver transformational change now and in the future? Can your staff think innovatively about how to gain efficiencies whilst also improving performance?
Is there an existing culture that delivers real effective change or just implements efficiency plans? How will you develop one quickly if not?
How will you and your teams manage to deliver the service whilst also implementing change? What additional resources can you free up?
How are your staff going to cope with doing more with less? Do they just work harder or smarter too?
Have you coaching, developmental or support programmes in place to make sure that your staff can cope and remain highly motivated through these difficult times?
Restructures, redeployment and redundancies are bound to happen - are your staff well placed to put their best foot forward into new roles?
Are you really supporting your exiting staff to find new jobs, new skills and make the most of the new opportunities they face?
With a greater emphasis on communities managing assets and services are you geared up to support this to happen?
Social enterprises may well take on your current roles and services – have you the skills or willingness to set up, lead and deliver one instead?
Have you the skills to strengthen existing partnerships and work collaboratively to ensure that funds are pooled to deliver priorities at the local level?
If none of the above cause you any issues then fantastic! However, we suspect they might.
So what can be done to help? Through our partnership with Partners in Management, a Chartered Management Institute (CMI) accredited Level 7 centre, we can offer highly focussed, practical staff development solutions that are centred on managing sustainable innovation and managing personal change through self-coaching. The emphasis is now not on primarily using external consultants to deliver change but developing the skills and attitudes necessary in-house instead and enabling you and your staff to take ownership and deliver results. Not only are the programmes available highly cost and time effective, they focus on practical real live work problems and issues thereby delivering instant results and return on investment. They also allow participants to gain an accredited qualification, from a level 3 in Coaching and Mentoring right through to a level 7 (postgraduate) Diploma in Strategic Management and Leadership. Given the current highly competitive job market and the fact that only one manager in four has an accredited qualification – you might even get your staff to contribute to the cost…..
In addition to longer more wide-ranging management development programmes offered, there are two, two day short courses in particular that are of great benefit here.>
The RIDFEAR® 'Coach Yourself through Change' - A personal development programme that facilitates both continuing and departing staff members to understand themselves more fully, come to an accommodation over current circumstances and develop the inspiration and fortitude to make a success out of the new situations facing them. This programme has been used extensively in organisations for staff facing redeployment and redundancy – both voluntary and enforced. (Can lead to the CMI Level 5 Award in Management Coaching & Mentoring)
The PIECHART 'Change and Innovation Management Methodology' – A highly practical work-based programme that is designed to enable participants to develop the skills necessary to manage inn ovation more successfully and consistently. This programme is perfect for getting a team to work together on a joint problem(s) and gaining commitment to deliver. (Can lead to the CMI Level 6 Award in Management & Leadership)
Both programmes can be delivered on site to suit your needs on times, locations and issues. When a further option to include 2 days on leading effective change is introduced this leads to CMI Level 6 Certificate in Management & Leadership upon satisfactory completion.
For more information contact Yvonne Castle – yvonnecastle@ycchange.co.uk or 0845 1800 216.
TO BOOK YOUR PLACE ON OUR FREE TASTER SESSIONS CLICK HERE.
Kick-start Your Harrogate Conference
YCChange are hosting a special fringe event at the Chartered Institute of Housing Conference in Harrogate over lunch on Tuesday, 22nd June, 2010.


Renowned speaker Mark Bradley will give a fresh view on customer insight and excellent customer experience. It will link with our challenging agenda ahead to further involve our tenants and residents on shaping the future of housing services.
This fantastic event will be held from 12.45 - 2.15pm and will take place at Joe Rigatoni's Italian Restaurant, a short walk from the Conference Centre, and will include an excellent buffet lunch.
Names of all attendees will be put into a draw for a FREE Mystery Shop worth £5,000 of your services by our Tenant Inspectors.
If you want to book a place at this event please emailangelahaigh@ycchange.co.uk with the following information:
Job Title
Organisation
Mobile Phone Number

YC Change are now 'tweeting' to the world useful snippets of information related to public service sector. If you want to follow us we are on Twitter as YCChange